I'm finally getting this post up! It has been sitting half finished for almost a week since I got my Zoyas in from the promo. And if you didn't know about the promo, I'm sorry its over. BUT They do it every January - 3 polishes for free, all you have to pay is the $10 shipping. Normally Zoya's are about $8 in b&m stores (You can find them at places like Ulta and WholeFoods) but this promo knocked them down to $3.33 a piece! Can't beat that with a stick!
So I was having such a hard time trying to pick colors. I think I'm in a rut. I dont know if I want to wear wintery colors or springy colors. I'm such a seasonal oriented person, AND indecisive. So I'm pretty helpless right now haha! So I just randomly picked some colors based of suggestions from some nail message boards and ended up with Ibiza, Aurora, and Blaze. I quickly swatched them for you guys - swatches are a little messy since I dont take the time to clean them up afterwards with my brush and acetone, and I dont put topcoat over them. Its just to give you a good idea what the color looks like, and I hope it helps someone out there make a decision. Unlike me. (haha!)
On to the swatching!
Zoya Ibiza - 2 coats. Gorgeous! A deep navy blue with glowy shimmer. I really do love this one. I feel like its the navy blue cousin of Chanel Malice (This winter's "It" polish).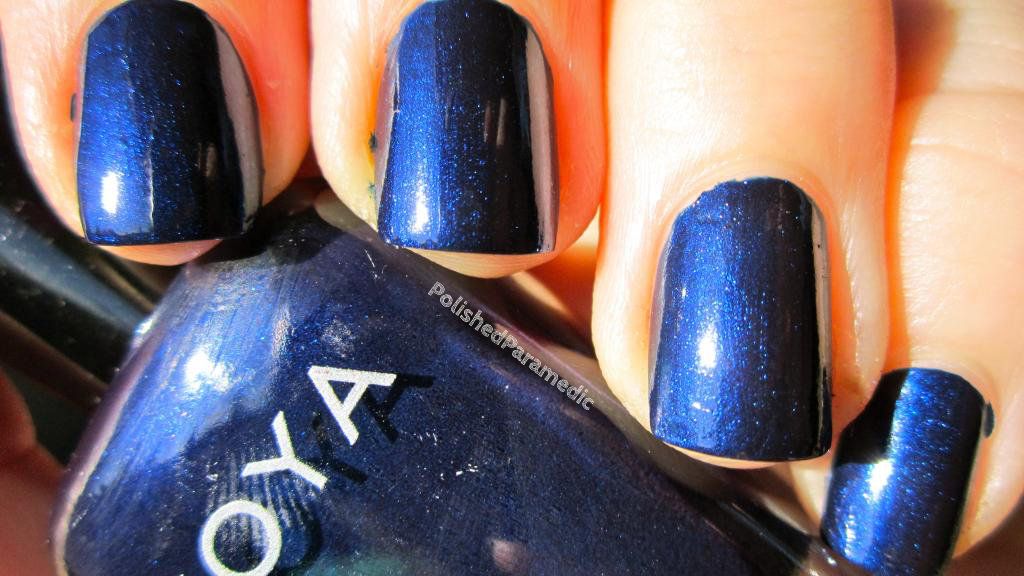 Zoya Aurora - 3 coats. A jelly base with holographic glitter. I ordered this one for the name since Sleeping Beauty is my favorite move. I wish Zoya would come out with a polish named Victoria so I could buy it. I was a little underwhelmed by this one though.
Blurred to show to holo sparkle happiness
The one thing I do find interesting and unique about this collection (the holiday 2012 Ornate collection) is that the glitter is almost like a little shard or flakie, not a regular glitter piece, so it is equally gorgeous in the shade/indoors!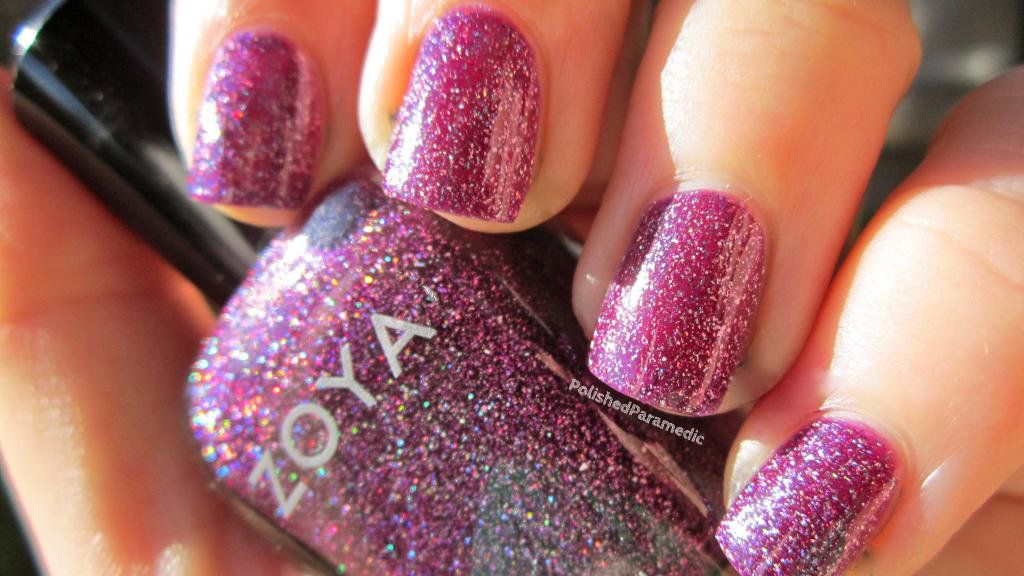 Zoya Blaze - this is my favorite of the 3. I think I used 3 coats. When I was putting it on I thought to myself that it looked really similar to another polish I own - Barry M Slammin' Red - which I love the color of but HATE how bad of a topcoat eater it is. I could put on 5 coats of gelous and 10 coats of topcoat and STILL have bumpiness an hour later. So I dont wear that because im not into that kind of stuff (you won't see me swatching any of those sand finish polishes on here lol!)
Blaze (this was with topcoat since I decided I wanted this to be my mani for the day)
I love how this polish changes colors. In the sun its a bright cherry red, inside it changes anywhere from almost a deep oxblood color to a rich apple red.
Look how different this color looks from the first picture! Amazing! (or maybe I just have a shatty camera...which would also mean I have shatty eyeballs too)
So here is the comparison between the two. I have it labeled in the picture. Slammin' Red is significantly more holo and sparkly, but the formula on the Zoya is so much better. Its smooth, easy to apply, and its this shiny without topcoat! Love! I'm definitely keeping the Zoya and swapping away Slammin' Red.
So lumpy!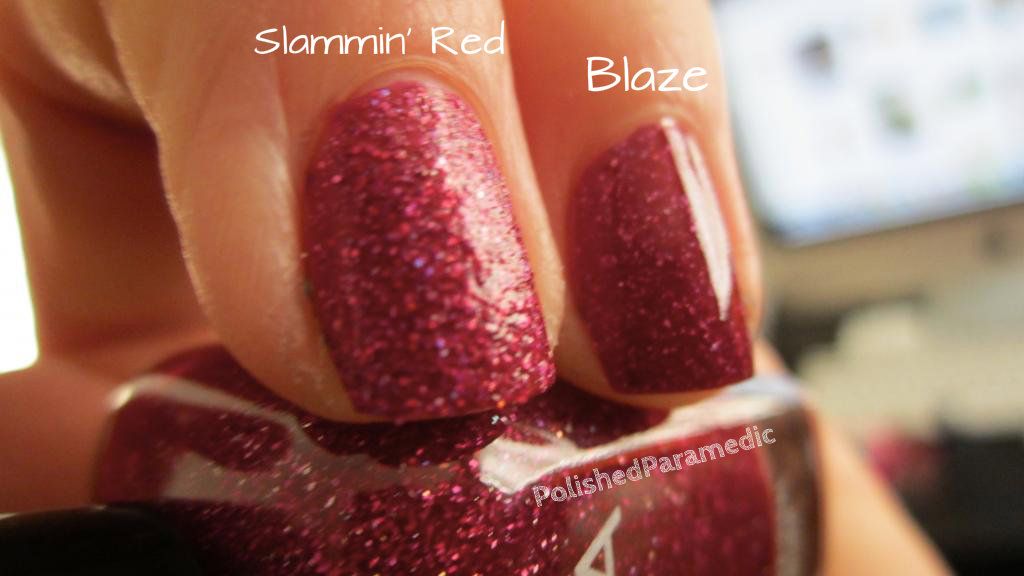 Maybe I will hold on to Slammin' Red for a giveaway or blog sale when I get more followers - I'm up to 1400 page views! Woohoo!
Also, the NailzCraze contest has begun! If you remember the wintery sweater nails I did for the contest please go vote for me
here
! Just leave a comment at the bottom of her page letting her know how much you love and adore entry #9 :)
Thanks for reading, enjoy!
-Victoria